Meatballs that will cook themselves while you're busy doing other things?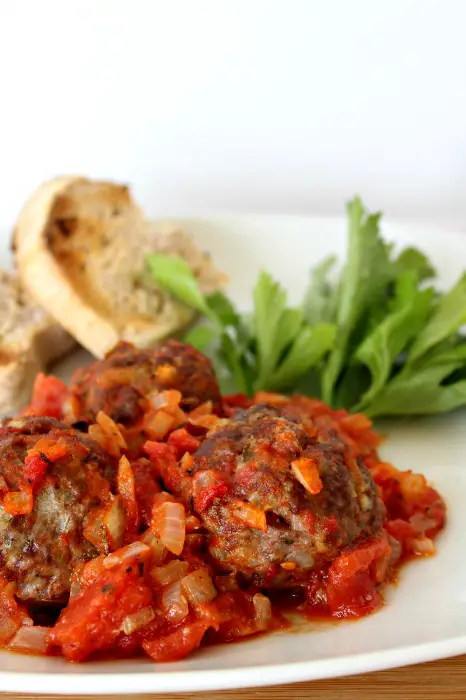 Yes! I started making this recipe a few years ago when I felt like a meatball dish, but I didn't feel like standing in the kitchen for 4 hours making it.  Whenever I had made meatballs before it always turned into a kitchen marathon of mammoth proportions. Inevitably I wouldn't make them again for about a year until the trauma of the event had worn off enough that I would think – "I'll make meatballs, that'll be easy!" only to be shocked once again at what an effort it was. 
There must be an easier way…..There is!  And I'm about to share it with you so you too can enjoy mouth watering meatballs in thick, herby tomato sauce in under an hour.  The secret is to bake the meatballs, yes, we BAKE them, and then you are free to go off and do other things while your dish makes itself!  What a pleasure. 
All you have to do is turn the little guys three or four times throughout cooking time, and voila, they come out all golden brown and steaming, sitting in a tomato sauce that is almost homemade from scratch, and all that's left to do is gobble them up in your tummy and feel satisfied.  That's my kind of dish. 
Rarely do I eat red meat these days, on a daily basis I'm more likely to have a legume dish like my lentil, sweet potato & tomato stew.  Or my aubergine mint & chickpea salad.  But every now and then I get a craving for a homemade burger (coming soon!), or my homemade meatballs.  This recipe certainly hits the mark. 
I love to serve these with brown rice, or a nice hunk of bread or toast to mop up all that delicious tomato sauce.  Any which way you serve this dish you can't go wrong and everyone will think you spent hours and hours making it.  Take the praise, I can keep a secret if you can! 
baked herby meatballs in tomato sauce
Ingredients
1/2

kg

lean beef mince

2

medium onions finely chopped

2

cloves

garlic minced

2

slices

bread of your choice

crumbed

S & P

Mixed herbs

1

egg

1

tin diced tomato in tomato juice

Olive oil
Instructions
Place mince in a large bowl, add 1 chopped onion (keep other onion to one side for the sauce), add minced garlic, bread crumbs, egg, mixed herbs, S & P and mix up with your hands until it all comes together.

Put 2 tbsp Olive oil into baking dish. Roll the mince mixture into balls about 1 inch round (press the mince mixture firmly between your palms to get rid of any air pockets - to insure that they do not break apart while cooking. Then roll into a ball.) and place in a baking dish, coating them with the olive oil.

Bake for about 20 minutes at 180°C until nicely browned, turn half way though cooking so the underside gets browned as well.

Fry the chopped onion that you had put aside in a little olive oil until glassy. Add the tinned diced tomato and some more mixed herbs, S & P to taste.

Add the tomato sauce to the meat balls and bake for an additional 25 minutes or so until the meat balls are cooked through and the sauce is thick and bubbling, turn them once or twice to ensure they are cooking evenly.
Recipe Notes
Serve with a pasta of your choice, brown rice, or a bread of your choice.
I served my meatballs with Artisan's gluten and sugar free bread which you can find at Spar Ballito.