Posted on September 8, 2017

Creamy, tasty and oh-so-healthy Smashed Chickpea Avocado Chicken Salad! The FLAVOURS! Oh, the flavours of this Smashed Chickpea Avocado Chicken Salad are to D.I.E for!  I'm not usually a fan of egg salads of any size, shape or description.  Not really my thing.  Hence why this is exactly the first egg salad-y recipe I have ever shared…
The FLAVOURS! Oh, the flavours of this Smashed Chickpea Avocado Chicken Salad are to D.I.E for!  I'm not usually a fan of egg salads of any size, shape or description.  Not really my thing.  Hence why this is exactly the first egg salad-y recipe I have ever shared…
By all means, you can leave the boiled eggs out of this dish, but they add a little somthin-somthin that this salad is just not quite the same without!
And for ME to say that…Well, you just know that it must be better WITH the eggs!
If you're like me and you think egg salad is best avoided, give this one a little try…I have a sneaky suspicion you might just love it.  And to be honest the eggs are a really subtle addition to this salad, you don't really know they're there apart from their very mild flavour.  Plus they do add a lot of goodness!
Made with smashed chickpeas, avocado (behold the CREAMY-CREAMINESS!), shredded roast chicken, hard boiled eggs with creamy centres (I have a little trick for making the purrrfect hard boiled eggs with creamy centres! See the recipe below), paprika, fresh parsley and rocket leaves, feta cheese crumblings and of course a little salt and pepper seasoning.
These ingredients add up to make the perfect combo of flavours and textures and HELLO HEALTHY SALAD!
Also give these recipes a try – my Avocado-Wild Rice And Nectarine Chicken Salad, my Baked Chicken Barley Kale Stew, my Sesame Chicken Butternut Barley Salad, my Chicken Pasta with Herby Avocado Pesto Sauce, my Healthy Homemade Celery Carrot Chicken Soup, my One Pot Mustard Coconut Chicken Skillet with Quinoa and my Sweet & Sour Cape Malay Chicken Curry.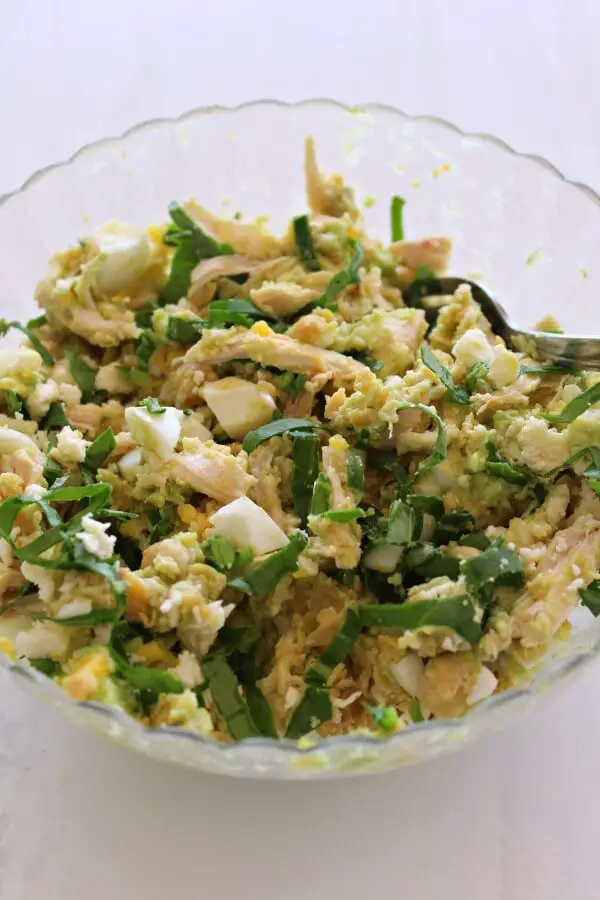 Let me give you a few ideas of how you can eat Smashed Chickpea Avocado Chicken Salad:
In a sandwich, as pictured
Nestled in a bagel (YUM!)
Rolled up in a wrap
On a slice of toast
Served on top of a leafy green salad
Even mixed in with some freshly cooked pasta to make a pasta salad!
Options, options so many options.  That's what we like to see.  If you left the chicken out of the mix, this would be an amazing breakfast served on any of the bread-y options shown above.  Too yum for words.
Can I just say how amazing this salad would be in sandwiches or bagels or wraps for a picnic or any summery outdoors event.  It's so fresh, satisfying and delicious!  And basically the definition of a healthy, quick and easy meal.
That EVERYONE will LOVE.
If I, the egg salad sceptic, love it (because it's just so DARN GOOD!), then I'm pretty sure you, and everyone you might share it with, will love it too!
P.S. This salad may serve more than 4, depending on the appetites of those you're cooking for…
Let's get cooking!
Don't forget to let me know what you think in the comments, I'm excited to hear from you!
Smashed Chickpea Avocado Chicken Salad
Ingredients
2

eggs

1

cup

tinned chickpeas

drained and rinsed

1

roast chicken breast

shredded

1

avocado

sliced

1/2

tsp

paprika

Salt and ground black pepper to taste

Handful fresh parsley

chopped

Handful rocket

shredded

1/4

cup

feta cheese

crumbled (optional)
Instructions
Place the eggs on to boil in a small saucepan, covered with cold water. Bring to the boil, then take off the heat, cover and allow to stand for 12 minutes. This should give you perfectly hard boiled eggs with creamy yolks! Pour out the hot water and rinse with cold water once or twice until you can peel the eggs.

While the eggs cook - Smash the chickpeas with a fork until mostly pasty with some chickpeas still whole.

Now slice the eggs and add them to the chickpeas with the chicken, paprika, salt and black pepper and stir everything together with a fork, mashing the avocado as you go. Then gently stir in the parsley, rocket and feta cheese (optional).

Once nicely combined, serve in sandwiches, bagels, on toast, with a green salad, or anything you like!