Posted on July 18, 2017

Expect a flavour explosion with this Sesame Chicken Butternut Barley Salad. While this is a really easy dish to put together, it does take a smidgen longer than some of my really quick and easy recipes.  You need about 50 minutes, the chicken and butternut take 30 minutes to bake, and only need to be checked once.  Then whip up the dressing, assemble the salad, and onto the table it goes!
Not to mention a colour and texture fiesta…A Sesame Chicken Butternut Barley Salad party in a bowl!
This is another one of those days where inspiration struck at the last moment, and I ended up with a dish that I absolutely LOVE, and am so happy to share with you!  Yes, YOU.  Because while I adore being able to make and eat delicious and healthy meals every day, I especially love sharing them with all of you so that you too can make and eat delicious and healthy meals every day!
Not to mention SIMPLE to make…
Speaking of simple, here are a few more quick and easy healthy meals I know you'll love – my Zingy Avocado Citrus Couscous Salad, my Roasted Butternut Squash Cous Cous Salad with Pesto Dressing, my Chicken Pasta with Herby Avocado Pesto Sauce, my Healthier Butternut Quinoa Macaroni Cheese and my Easy Aubergine Beef Cannelloni.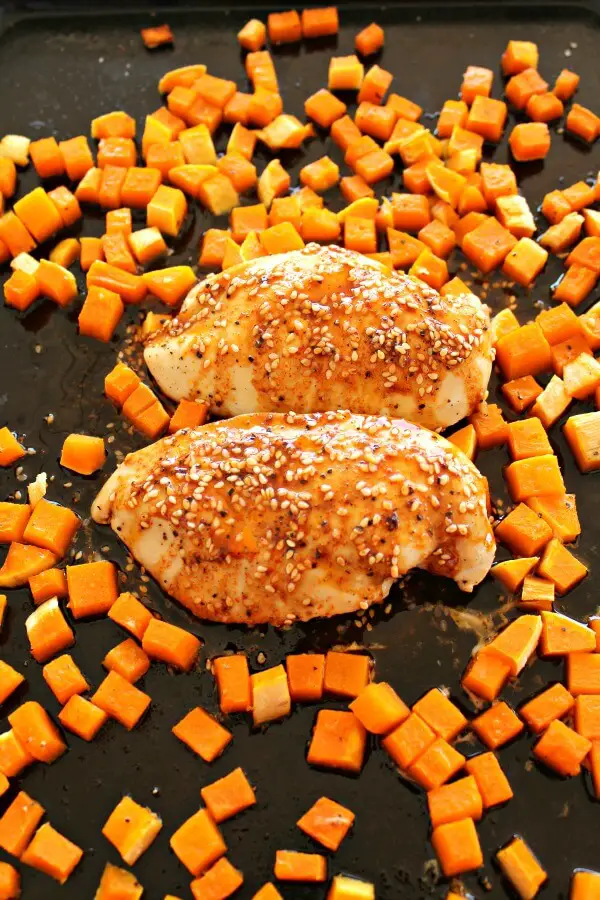 Which leads me to today's little wonder…Can we just take a minute to love and adore that golden sesame chicken pictured above, OH MY WORD, how delicious does that look!!  This incredibly colourful, flavourful and texture-full Sesame Chicken Butternut Barley Salad has a scrummy Olive Oil, Sesame Seed, Balsamic, Paprika and Honey Dressing which the chicken is baked in and the rest is to drizzle over the salad right before chowing down.
WOW.  YUM YUM YUUUUMMMM!!!
I recently read about a little trick when baking chicken breasts, and it has to do with basting the chicken with a little brine (salt water) before baking it for the first 15 minutes, then brushing the chicken with oil, or in this case, the dressing, and baking it for a further 15 minutes.  I have to say, I have never made such juicy baked chicken before, so it really does work!
In this salad we have:
Succulent chicken breasts baked in a sesame balsamic paprika honey dressing (Um, YUM!)
Pearl barley (so healthy)
Baked butternut squash (double yum)
Crumbled feta cheese (delish!)
Chopped fresh dill and fresh parsley (healthy and herby-yum)
Oh the flavours of this salad!  Take me back to 1pm so I can enjoy it all over again.
This salad is SATISFYYYYING.  Often I feel a teensy bit peckish after a super healthy salad and I have to grab a little somthin to satisfy my sweet tooth like my Super Food Chocolate Orange Pecan Bark – really does the trick!  But that was not the case with this Chicken Barley Salad, oh no, my tummy was totally full, and completely happy.  No sneaky sweet treats required.  And I didn't feel peckish again until dinner…almost unheard of for me, I like to snack – a little handful of nuts here, a little peanut butter and apple there.  Not today friends, not today.
I can see this salad being a delicious weeknight supper, an exciting packed lunch, a very impressive side dish for those weekend get togethers, even a picnic lunch in the park or on the beach would be more than complete with this Sesame Chicken Butternut Barley Salad as the main dish!
When you eat this salad is not the issue, the issue is that you don't miss out on its amazingness and try it out really really SOON!  And let me know what you think of it!  I'd love to hear from you.
Let's get cooking!
Sesame Chicken Butternut Barley Salad
Ingredients
FOR THE SALAD:

1/3

tsp

salt dissolved in 1 1/2 tbsp warm water

Drizzle olive oil

Salt and ground black pepper

2

chicken breasts

skinless and deboned

1/2

butternut squash

sliced into small cubes

1

cup

pearl barley

cooked

1/2

cup

feta cheese

crumbled

Few sprigs fresh parsley

chopped

Few sprigs fresh dill

chopped

FOR THE DRESSING:

6

tbsp

olive oil

1

tbsp

balsamic vinegar

1

tsp

lemon juice

2

tsp

sesame seeds

1

tsp

paprika

2

tsp

honey

Salt and ground black pepper to taste
Instructions
TO MAKE THE SALAD:

Preheat the oven to 185°C.

Place the chicken breasts on a baking sheet and brush with salt water, place the butternut cubes around the chicken, drizzle the butternut with a little olive oil and season with salt and ground black pepper. Bake for 15 minutes.

Take the chicken out of the oven and brush with some of the dressing (see below) on both sides, bake for a further 15 minutes or until the chicken is cooked through and golden. The butternut should be tender now as well.

Remove from the oven and allow to cool.

Pile the cooked barley into a salad bowl. Slice or cube the chicken breasts and gently fold the chicken and butternut into the barley. Top with feta cheese, chopped parsley and chopped dill.

TO MAKE THE DRESSING:

In a small bowl, stir together all the ingredients until well combined. Use some of the dressing to brush the chicken half way through cooking. Pour the rest of the dressing into a small jar to serve alongside the salad.