Can there be a better combo for Stuffed Potatoes?
I'm not sure there is a better combination than spinach & onions with a little coconut milk nestled in a jacket potato topped with golden feta cheese.  I dare you not to feel hungry when you think of that! 
Earlier this week I made a little confession about Christmas Cake…You can read the whole post here on How To Make The Perfect Christmas Cake.  Today I'm going to make another confession.  This one's pretty cool…This isn't my recipe – This is my mom's recipe!  And she came up with it just last week. 
I'm quite impressed because if you know my mom, you'll know she's not so into cooking – it's not really her thing.  So for her to create such a delicious dish requires some applause!!  Well done Mumsie!
I loved them so much that I had to share them with you.  This morning I got my mom back in the kitchen and she showed me how to make these little guys, and then I got to have them for lunch!  Win win.  I know you will love them too, and these stuffed potatoes are such a great idea for a side dish around this time of year.  They take just 30 minutes to make and the flavours are to die for! 
If you're anything like me you'll also love this as a main.  I could eat this kind of dish for lunch & dinner all year round and I'd be happy.  Super convenient as most of us have 99% of these ingredients in our kitchens all the time. 
So next time you're at a loss for what to make for dinner and you're looking for something quick & easy that's delicious and nutritious – look no further!  These Spinach & Feta Jacket Stuffed Potatoes won't disappoint.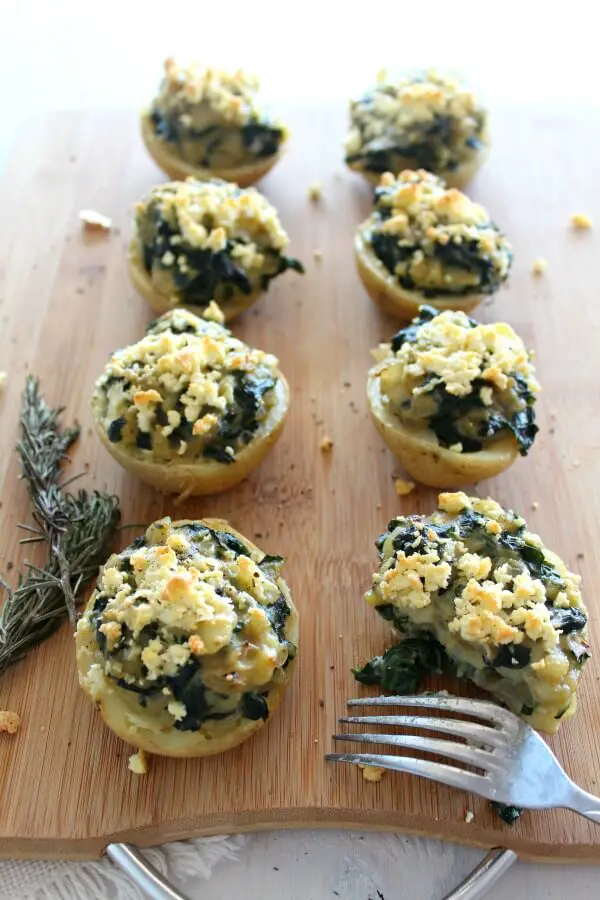 spinach & feta jacket stuffed potatoes
Ingredients
4

medium potatoes

1 1/2

large brown onions

Drizzle of Olive oil

150

g

spinach

Salt & black pepper

165

ml

coconut milk

1

tsp

Marmite

35

g

Feta
Instructions
Preheat oven to 220°C.

Wash, spike and cook potatoes whole in microwave for about 6 minutes until soft, turning after 3 minutes.

Dice onions small and fry in about 1 tbsp of Olive oil until glassy.

Wash & roughly chop the spinach. Add to the onions with another drizzle of olive oil and fry for about 2 minutes until limp, season with salt & pepper. Pour in the coconut milk and marmite and stir in over the heat until the marmite is melted and evenly distributed.

Cut the potatoes in half long ways and using a teaspoon, spoon out the potato, leaving a 2mm rim around the edges so the potatoes hold their shape.

Add the spooned out potato to the spinach mixture, breaking the potato up and stirring it in with a metal spoon.

Place the potato jackets on a baking tray and fill them with the spinach mixture - about 1 heaped tbsp in each and then pile them up a bit more if you have extra spinach.

Top with grated feta cheese and grill on the top shelf for about 5 minutes until the cheese is golden.
Recipe Notes
You can prepare these in advance and store them in the fridge. When you are ready to serve them - top with the feta cheese and grill.