Warm Brown Rice Lentil Kidney Bean Salad?!

 

Things are getting serious. This is
a
comforting salad full to the brim with healthy legumes, beans and yummy brown rice is just what Mother Nature ordered.
A salad for ALL seasons…Scattered with a generous handful of chopped chives and drizzled with one of my favourite salad dressings…this is a wholesome salad for the books!!!
More delicious comfort food recipes for you…Try my Healthy Homemade Celery Carrot Chicken Soup, my Clean Eating Carrot Turmeric Ginger Soup, my Cheesy Polenta & Garlic Sautéed Mushrooms and my Cozy Up Tomato & Butternut Squash Soup.
This salad came about the way a lot of recipes seem to in my kitchen – a teeny bit by accident!  I knew I wanted to make something warm, delicious, comforting and super healthy, and these were the ingredients I had on hand.  I thought it might turn out rather well but I was surprised at just HOW WELL all the flavours came together in the end to make one of my FAVOURITE salads to date!
Because the flavours in this dish are all quite subtle, it can handle quite a punchy dressing.  So I like to serve this salad with an olive oil, balsamic vinegar, lemon juice, honey dressing seasoned with salt & pepper.  It's just the perfect finishing touch to this Warm Brown Rice Lentil Kidney Bean Salad. 
I'm so happy with this as a main dish and I'm sure I'm not alone there.  It can be served alongside a main meal as a side dish as well.  Or as a bed of deliciousness for a grilled or pan seared chicken breast or fish fillet to nestle into.  That sounds AMAZING!  Guess who's going to be trying that out this week!?  ME.  And maybe YOU?  YES!!
By the way, happy May to all of you!  Did everyone enjoy their long weekend?  I'm not sure how the first 4 months of the year are already behind us, but I know I'm looking forward to what the next 8 have in store.  One thing is for sure…There will be LOTS more healthy, tasty recipes coming your way which I hope you will love.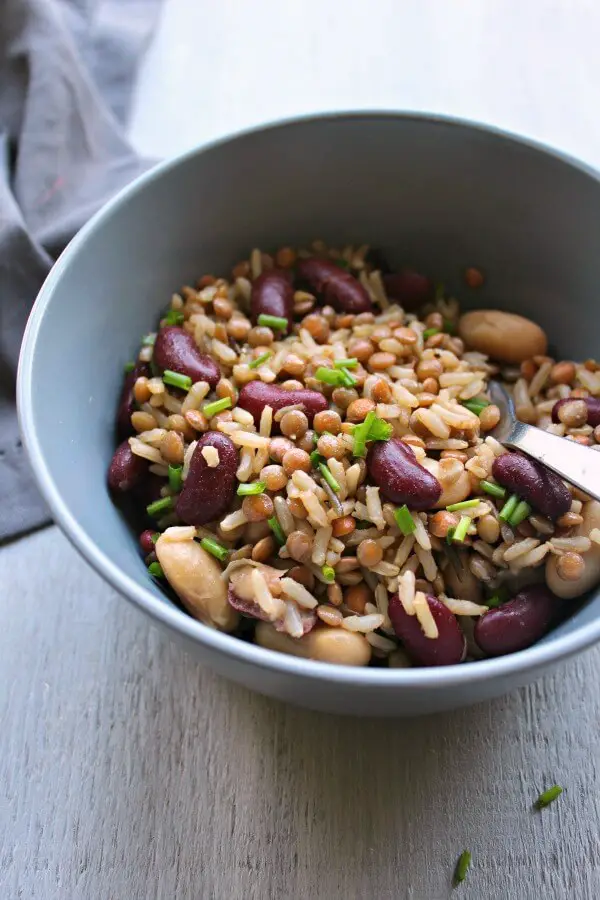 Let me know in the comments if you have any special requests, and of course, if you make this awesome Warm Brown Rice Lentil Kidney Bean Salad, let me know what you think of it!  I'm dying to know.
Warm Brown Rice Lentil Kidney Bean Salad
Ingredients
FOR THE SALAD:

1

cup

black lentils

1

cup

brown rice

6

cups

water

Pinch

of salt

400

g

tin red kidney beans

400

g

tin butter beans

Small bunch of fresh chives finely chopped

FOR THE DRESSING:

2

tbsp

olive oil

2

tbsp

balsamic vinegar

1

tbsp

lemon juice

1

tbsp

honey

Salt & pepper to taste
Instructions
TO MAKE THE SALAD:

In a large saucepan place the lentils, brown rice, salt and water on to boil. Boil on a medium high heat for about 20 minutes until the lentils and rice are tender.

In the meantime drain the kidney beans and butter beans and rinse well under cold water.

Once the rice and lentils have cooled to warm, pour them into a salad bowl, add the beans and chives and gently toss together.

TO MAKE THE DRESSING:

Mix all ingredients together in a small bowl, pour over the salad and toss together gently.

Alternatively, serve the dressing on the side.