This Crustless Tomato Tart is inspired by the original tomato tart, this one is it's crustless cousin.

 

Much healthier, lighter, easy to make and just as delectable…All the cheesy, herby, tomatoey flavours are there, you also get some crunch from the cheesy topping.
There's something about the good old tomato & melted cheese combo that warms the cockles of the heart and keeps you going back for more!  
I can't think of anything much more delicious than a Tomato & White Cheddar Crustless Tart.
I think of this tart as a great recipe for the day after a big event….For those of you who celebrate Thanksgiving, I hope you all had a great day yesterday!  I'm sure you need something that's quick and easy to whip up, nice and nourishing and filling…This Tomato & White Cheddar Crustless Tart is just the thing.  This would also be a great boxing day recipe, or perfect for a casual Sunday lunch.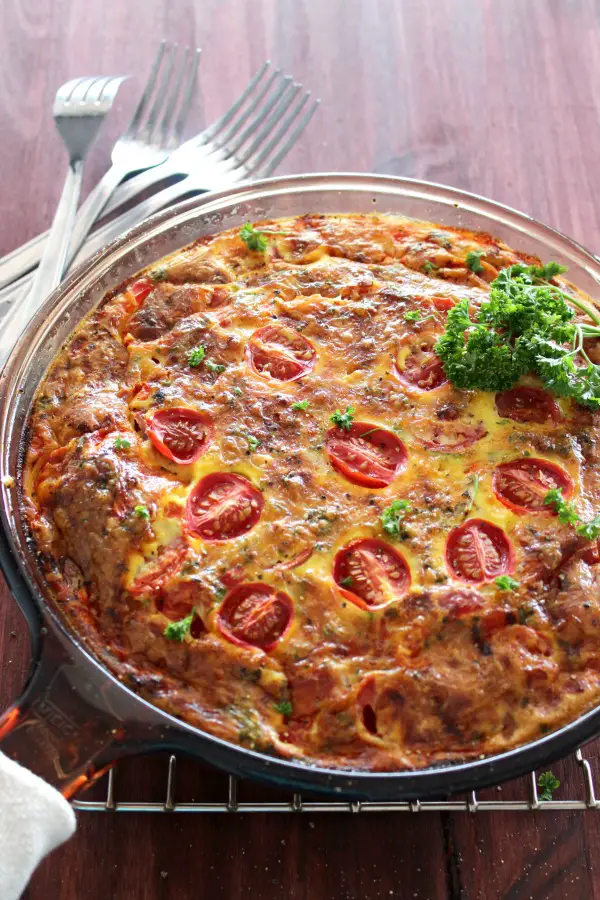 What's so great about it is that you can make it super simple like I did, or you can add more flavours if you feel like it.  It's a really versatile dish – so go wild with experimenting!  This tomato tart is delicious with a simple side salad, like my Pecan Cranberry & Avocado Salad With Orange Dressing and a slice of homemade bread such as this No Knead Multi-Seed Potato Bread.
With just 4 short weeks until Christmas, I know I'm starting to think about all the yummy things I'll be cooking for Christmas day, as well as everything I want to indulge in beforehand.  And what I'd like to make for friends and family as little gifts. 
Anyone that knows me knows I have a slight (Ok, major) weakness when it comes to sweet treats, so it goes without saying that I am most excited about the dessert portion of the Christmas season….Like Christmas Fruit Mince Pies with Light Pastry (Yuuum!), How To Make The Perfect Christmas Cake, Baked Vanilla Cheesecake with Cherry Coulis, ginger & treacle loaf with yoghurt raspberry frosting, spiced festive ginger & syrup cookies.  But I'm also really looking forward to some savouries – Cream Cheese Appetizer with Poached Pear & Pecans, Roast Beet Butternut Basil Goat Cheese Salad, roast chicken, roast veggies, the list goes on and on! 
I'll certainly be sharing everything that is a success with you, and I hope you will love the upcoming recipes and let me know what you think!  
Do you have a favourite savoury tart recipe?  Tell me all about it in the comments!
tomato & white cheddar crustless tart
A healthier tomato tart made in a pyrex or skillet and baked in the oven until golden and crispy on top. This is the answer to all your brunch or light lunch cravings!
Ingredients
400

g

mini plum tomatoes or 3 large tomatoes

1/2

a medium red pepper

8

large eggs

80

ml

coconut milk

small handful of fresh parsley

60

g

white cheddar

60

g

feta

salt and black pepper
Instructions
Preheat oven to 160°C and brush your ovenproof dish with a little olive oil. (I used a pyrex frying pan).

In a bowl, beat the eggs then add the coconut milk and and beat in.

Finely chop the parsley and add to the egg mixture. Season with salt and pepper.

Thinly slice the feta and place it evenly over the bottom of your ovenproof dish.

Slice the plum tomatoes in half and finely dice the red pepper.

Sprinkle the red pepper over the cheese then pour the egg mixture in slowly.

Grate the white cheddar and sprinkle over the egg. Then top with the tomatoes.

Bake for about 50 minutes until the egg is cooked through and the cheese is golden.

Garnish with a little bit of fresh parsley and serve warm.