How good do these smoothie bowls look? They taste good too!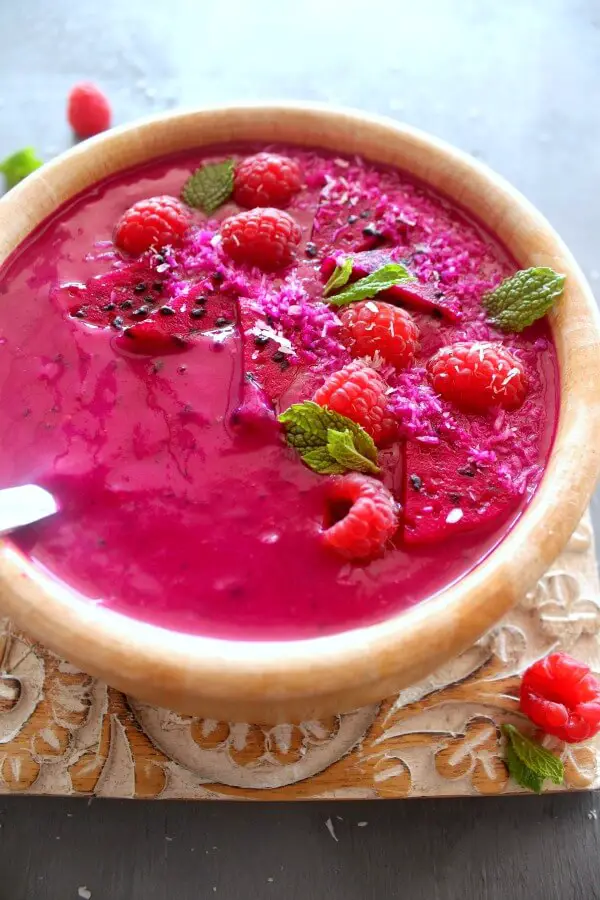 I for one am glad Monday's over for another week…Mondays always start out a little blue, no matter how hard I try!  But once I get over the initial downer it's all go from there.  Yesterday I was planning my week of recipes out, grocery shopping for all the delicious ingredients, AND I had my first coffee shop outing in ages!  All in all it's been a good start to the week. 
How about you guys?  Anything fun on the menu this week?  I think I have a little something for you to try today that you might just LOOOVE.  I'm pretty partial to these Raspberry Coconut Dragon Fruit Smoothie Bowls and I'm sure you and your family will be too! 
A great healthy treat that you absolutely MUST try is my 2 Ingredient Banana Kiwi Sorbet Scoops!  There's no way you want to miss out on the delicious-ness of these.  If you're into smoothies then my Refreshing Coconut Pineapple Mango Smoothie will be right up your alley.  
Right – Smoothie Bowls – What can I say about them that the pictures don't tell you?  They are so super pretty to look at with that vibrant dragon fruit colouring, SO full of goodness, and packed with flavour.  It's impossible to describe how good they are, so you are just going to have to make them for yourself!
Last week was actually the first time I tried dragon fruit… Their colouring is absolutely amazing!!  They have to be one of the prettiest fruits I've ever seen.  The ones I bought are a vibrant pink all the way through.  I'm excited to try the kind that are white in the centre sometime. 
If you haven't tried dragon fruit now's the time!  They have a mild sweet taste and are similar in texture to kiwi fruit.  They're full of antioxidants and vitamins. 
Have you made smoothie bowls before?  Do you have a favourite? 
Here we go! Let's make some smoothie bowls. . .
Raspberry Coconut Dragon Fruit Smoothie Bowls
Ingredients
1

dragon fruit peeled & sliced

1/2

cup

raspberries

3

bananas peeled & sliced

30

ml

coconut milk
Instructions
Place all ingredients in a blender and pulse about 8 times until the mixture is smooth.

Pour into two bowls and top with fresh fruit.