Healthy Red Pepper Butternut Basil Egg Muffins for breakfast! 
Or a snack…Perfect for kids lunch boxes or a packed lunch for work.  They're really very versatile and totally yummy.  I would even serve these with drinks as a healthy canapé!  The options are endless with these little nuggets of healthy goodness. 
Can we just talk about how cute these are for a second?!  They are so adorable – little bite size egg muffins – I'm so excited about them!!  A few other things I'm excited about right now which you should totally try out are my Banana Pecan & Cinnamon Muffins, my Orange & Strawberry Breakfast Muffins and my Raspberry Coconut Dragon Fruit Smoothie Bowls.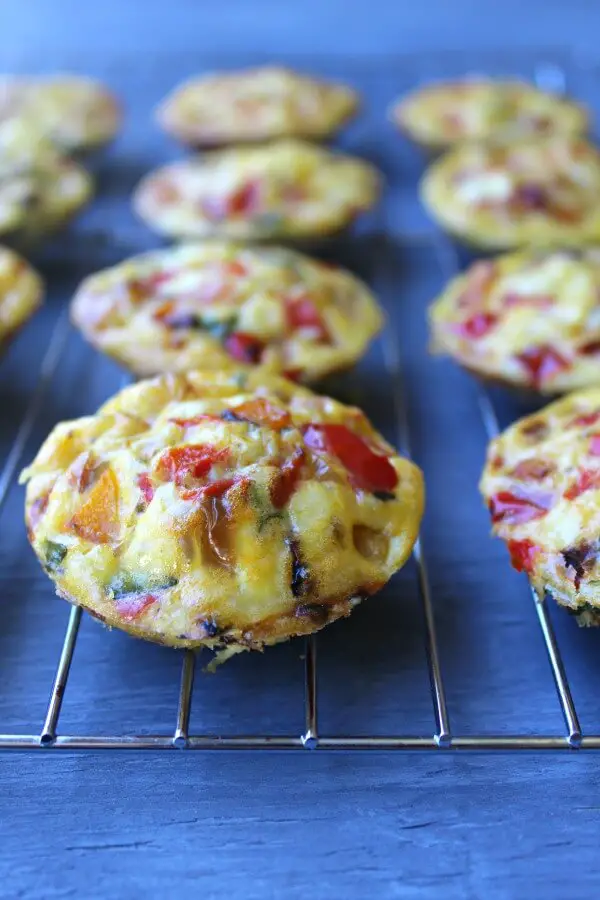 You can make these muffins the night before, store them in the fridge overnight and warm them up in the morning for breakfast on the go.  Totally delicious at room temperature too!!
I actually had these Healthy Red Pepper Butternut Basil Egg Muffins for lunch today with a side salad, and my tummy and taste buds were totalllllly satisfied. 
I love that they're SO quick and easy to make, and you can literally make them with whatever veggies you have on hand.  You can use pumpkin, broccoli, carrots, spinach, sweet potato, any kind of pepper and your choice of fresh herbs.  If you're a bacon lover throw some in!   And any cheese you enjoy will work.
It's so much fun to try out different combinations, so if you do….let me know!  I'd love to hear how your egg muffins turn out. 
Red Pepper Butternut Basil Egg Muffins
Servings
:
15
mini muffins
Ingredients
1

tbsp

olive oil

1/2

onion finely chopped

1

cup

butternut peeled and cut into 5mm cubes

1

cup

red pepper finely chopped

75

g

feta cheese crumbled

1

small handful fresh basil

6

eggs

Salt & pepper to taste
Instructions
Preheat oven to 180°C. Lightly grease a muffin tin.

Heat the olive oil in a large frying pan and fry the onions until glassy, add the butternut and red pepper and fry on a medium heat until the butternut is tender. About 10 minutes stirring often.

In a mixing bowl beat the eggs with a whisk, then add the butternut, red pepper, feta cheese and salt & pepper and stir in.

Pull the leaves off the basil stalks, if they're small throw them into the egg mixture as is, if they're large leaves, roughly chop them up and then add them to the egg mixture.

Spoon the mixture into a muffin tin. You can make mini muffins (like I did) or regular muffins.

Bake in the middle of the oven for 12 minutes until the egg is cooked through and a tester stick comes out clean.
Recipe Notes
You can make these muffins with almost any vegetables you have on hand, add bacon to them if you wish and your favourite cheese.