5 Minute Spinach Apple Green Smoothie
Posted on May 19 2017

This is the absolute BEST quick and easy, healthy green smoothie!! Breakfast, lunch, afternoon snack, post-workout boost, or whenever you like, this 5 Minute Spinach Apple Green Smoothie is the B.U.S.I.N.E.S.S! It's loaded with greens and packed with nutrients, not to mention – it tastes heavenly!
Made with baby spinach, cucumber (so fresh!), green apple, banana, orange juice and Greek yoghurt in just 5 MINUTES.  It's sweet, but not too sweet, FRESH (thank you cucumber!), light, and FULL of green goodness!!  You can't really taste the spinach but its health benefits are all there.
More healthy smoothie recipes?  Check out my Chocolate Cinnamon Coconut Smoothie, my Pretty Pink Lemonade Smoothie, my Mango Orange and Ginger Hot Smoothie, my Refreshing Coconut Pineapple Mango Smoothie and my Raspberry Coconut Dragon Fruit Smoothie Bowls.
For a dairy free smoothie, just add coconut milk or water instead of the Greek yoghurt.  And if you want your smoothie a little sweeter…add some honey or maple syrup to the mix.  Also, if you want to amp up the freshness factor, add a few mint leaves….Mmmmm the FRESHNESS.  YUM. 
I'm completely hooked on this 5 Minute Spinach Apple Green Smoothie, I absolutely adore the flavours and I love that I can get a whole bunch of healthy spinach and cucumber into my diet in such an easy and yummy way.  Not to mention the goodness of the green apple, banana and orange! 
It's a win win win situation all the way!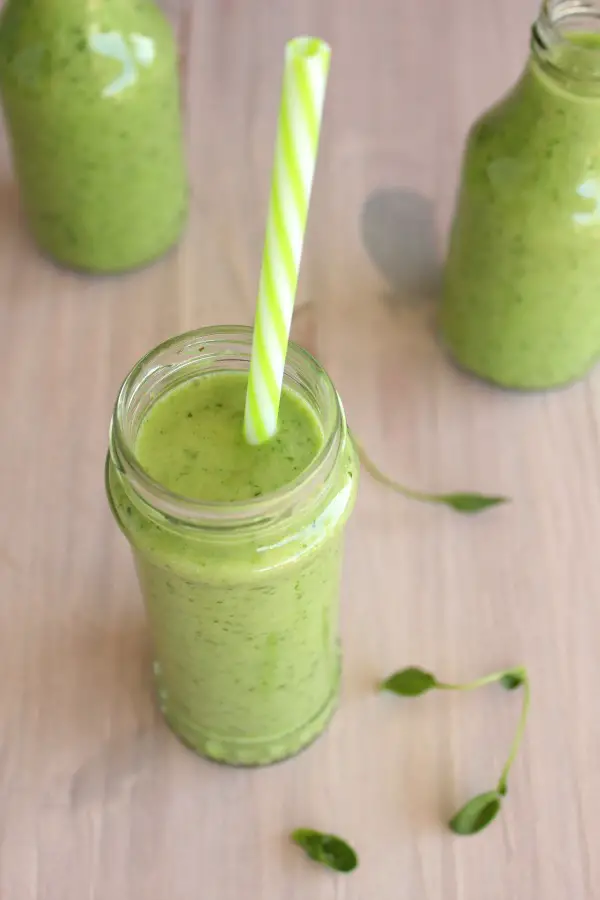 Happy Friday by the way!  Let's let out a collective sigh of relief, and maybe do a happy dance?!  Just me?  I'm really glad it's the weekend, and I've got a fun afternoon of going out for coffee (in my case, tea) and then a long walk along the beach walkway.  Ahhhh weekend…I've missed you!!
I'm thinking a few restaurant /coffee shop adventures are in order for this weekend.  It's been a while since I've done a coffee shop post…I'll share a new one with you soon!  Every now and then I love having someone cook for ME for a change!  I'm going to try not to go near the kitchen this weekend, unless it's for a warm cuppa, of course!  And that way, I'll discover some new places around and about so that I can share all the details with YOU.  There's a very cute little food truck down the road from me that I have been dying to try out!  And a few quaint little places I've been meaning to go back to. 
That's my weekend in a nutshell…what does everyone have planned?  I hope whatever you get up to, you have great company and delicious food along the way, maybe a green smoothie or two?!! 
A quick recap:
This is undeniably the easiest and BEST green smoothie I have ever tasted
It's packed with energy boosting goodness
You could even have this smoothie in place of a light meal, it's so packed with greens and it is quite filling!
It's low carb, high in fibre and nutrients
You can make this smoothie vegan by replacing the Greek yoghurt with coconut milk or water
Don't forget to try out this super healthy and easy 5 Minute Spinach Apple Green Smoothie really soon, once you try it, it will become a weekly addition, I can assure you!
Here's the RECIPE…
5 Minute Spinach Apple Green Smoothie
A powerhouse green smoothie that is loaded with spinach, it's smooth and creamy, sweet and refreshing. The perfect simple to make healthy smoothie to have anytime!
Keyword:
Apple, Breakfast, Green Smoothie, Spinach
Ingredients
1 1/2

cups

baby spinach

3

inch

slice of cucumber

diced

1

green apple

peeled & diced

1

banana

sliced

Juice of 1 orange

2

heaped tbsp Greek yoghurt
Instructions
Blend all ingredients together until smooth, pour into glasses, and enjoy!