Posted on August 11, 2017

No sugar, gluten or dairy in this Stone Fruit Apple Date Brunch Cake which is made with the best of everything! What do I mean by the best of everything? Well, it's full of fruity, nutty, coconutty flavours which makes it completely YUM, with no funny business, meaning: nothing that's bad for you!
It's kinda like an old fashioned upside down cake, except there's no sugary gooey sauce…This is a modernised, sugar free fruit cake that's absolutely ideal for breakfast or brunch.  It's got all the flavour of the fresh stone fruit, apples and dates, without the unhealthy ingredients!
This makes me very, VERY HAPPY.  The finding-real-joy-in-the-tiny-little-things kind of happy.  I packed this brunch cake full of all the very best summer fruit, the best (in my opinion) gluten free flours, and the combination of flavours and textures is to die for!!
You'll see…When you try this cake, we'll be on the same page.
Just you, me, and our adoration of Stone Fruit Apple Date Brunch Cake.  You definitely want to be on that page, I can assure you.
Definitely also give these delicious cakes a try – The Simplest Lemon Drizzle Loaf Cake, The Best Chocolate Brownie Cake (Sugar Free), my Lemon Drizzle Silk Cake with Cream Cheese Icing, my Zesty Orange Honey Layer Cake, my Chocolate Chip Raspberry Coffee Cake.
Let's get down to the nitty gritty…It's made with:
Fresh apples and dates, because this is one of my all time favourite combinations, not to be missed in this life!!
Coconut oil, egg and vanilla essence, what's a cake without these essentials?
Almond flour, coconut flour, nutmeg, the best gluten free flours (in my opinion), and the nutmeg for an extra brunch-y punch of flavour
The upside-down-topping bit has nectarines, plums, cinnamon and honey, because YUUUUMMM
Any stone fruit will work for this cake, I would always keep the apple date combo in the cake itself because I can't get enough of it, but that's just me.  When it comes to sugar free baking I'm a date fan all the way, and when you add apples into the mix it becomes a sweet and sour FIESTA for  the taste buds!  Which is hard to beat.
I fed this Stone Fruit Apple Date Brunch Cake to a few unsuspecting friends and family yesterday, and the first thing they said was that it was so light, and fine in texture!  And that the flavours were just divine, especially served as a brunch cake…so much goodness in there.
They also loved the crispy edges of the cake that bake to a dark golden brown and the dates and coconut sort of caramelise to form a nice crunchy crust…AMAZING!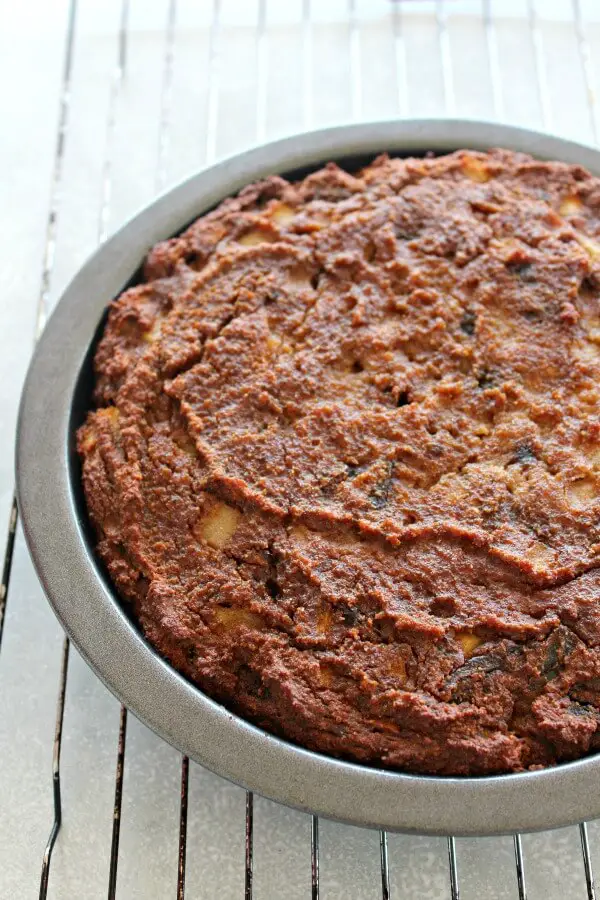 Let's get real…
This is by no means a quick cake.  I'm just going to put it out there…this one takes a little time.  But it's by no means difficult either, the prep time is 30 minutes (not so bad!), and the cooking time is 1 hour (eeeek!), I know, I know, a bit long.  But if you're at home anyway, 1 hour goes by in a flash if you're busy with other things.
The killer is that you have to let this cake cool COMPLETELY before turning it out, or else you will leave the upside-down-topping on the base of the cake tin, not so much fun!
BUT…THERE IS A HUGE BUT HERE…It will be SOOOO WORTH IT, I promise you!!  This is by far the most delicious gluten free cake I have tasted.  And sometimes it's really fun to have a full-on baking morning, no?
This cake just gets better and better, so feel free to make it the day before, or a couple of days before you need it.  Everything melds together and the cake becomes more and more flavourful.
When you make this Stone Fruit Apple Date Brunch Cake, I want to hear all about it, so leave me a comment!
It's Brunch Cake baking time!
Stone Fruit Apple Date Brunch Cake
The healthiest, gluten free, dairy free and sugar free vegan brunch cake! Not to mention easy to make, fruity, and totally scrumptious. This is the ideal brunch or breakfast cake!
Ingredients
FOR THE CAKE:

3

apples

peeled and chopped small

1

cup

dates

chopped small

1

tsp

bicarbonate of soda

1 1/4

cup

boiling water

1

egg

lightly beaten

1/2

cup

coconut oil

melted

1

tsp

vanilla essence

1

cup

almond flour

1/2

cup

coconut flour

1/2

tsp

nutmeg

Pinch

of salt

FOR THE TOPPING:

1

nectarine

sliced

1

plum

sliced

1 - 2

tbsp

honey

1

tsp

ground cinnamon
Instructions
Preheat oven to 175°C (350°F). Generously grease a round 20cm (8 inch) cake tin with coconut oil.

In a large bowl, mix together the apples, dates, bicarb of soda and boiling water, set aside to cool.

In a small bowl, stir the coconut oil and the vanilla essence into the beaten egg.

In another large bowl, stir the almond flour, coconut flour, nutmeg and salt together and then add the apple mixture and the oil and egg mixture alternately to the flour mixture until combined.

Place the slices of nectarine and plum in a circular design on the base of the cake tin. Drizzle the honey evenly over the fruit, then sprinkle on the ground cinnamon.

Gently spoon the cake mixture onto the fruit, and smooth out carefully until level. Bake for 60 minutes or until a tester comes out clean. After 15 minutes of baking, gently rest a piece of silver foil over the cake for the rest of the cooking time to stop it from browning too much.

Allow the cake to cool completely before turning it out onto a serving plate. Slice with a sharp knife and enjoy.
Recipe Notes
It is very important that you allow the cake to cool COMPLETELY before turning it out, or the cake will break apart and the topping will be left in the cake tin.