Posted on February 1 2018

A favourite favourite in my family that is SO incredibly GLORIOUSLY GOOD no one will ever know that it's sugar and butter free!  Made with LOTS of very ripe bananas, wholewheat flour, honey, coconut oil and Greek yoghurt, this Completely Healthy Banana Bread is more "banana with a little bread than bread with a little banana!"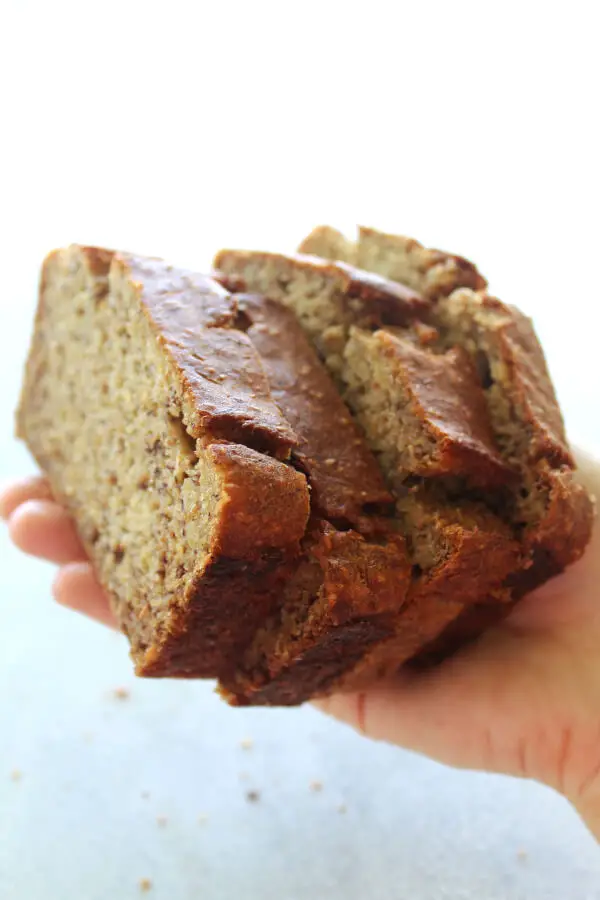 SOOOOO so so scrummy, super moist and packed with flavour!!  In fact, as far as simple, easy Completely Healthy Banana Bread goes, this recipe is by FAR the best!
Adapted from my tried and trusted (not quite as healthy) banana bread recipe that I have been making for SO LONG I could probably make it in my sleep – THIS recipe is very nearly as delicious without having to worry about sugar or butter content…
It's made with more bananas than most banana bread recipes which is what makes it SO DELICIOUS and melt in the mouth moist, with a crunchy, golden-brown crust, it just doesn't get any better than that right there.
You will also love these healthy recipes: Banana Nut Chocolate Chip Bread, Honey Butternut Carrot Bread, No Knead Multi-Seed Potato Bread, Simple Zucchini Feta Soda Bread, Wholewheat Pecan Date Chai-Tea Ring, Banana Pecan & Cinnamon Muffins, Breakfast Banana Bran Spice Muffins, Easy Lemon Poppy Seed Blender Muffins, Healthy Chocolate Banana & Apple Muffins, and Oatmeal Peanut Butter Banana Muffins.
Making this the PERFECT Completely Healthy Banana Bread to make for the week, slice it up and freeze it for easy, super healthy snacking.
Also a delicious breakfast option, your family will love you forever, and you'll be rather partial to yourself in those hungry moments too ;).  Nothing like feeling like something YUM and knowing you've got a few slices of moist banana bread in the freezer, all ready to be gobbled up!
In fact, this banana bread only gets better with time…The flavours become more intense and the bread settles down and becomes even moister and more scrumptious than when it's first baked.
How to store your Completely Healthy Banana Bread?
This banana bread will stay fresh tightly wrapped in silver foil and left out in cooler temperatures for a few days (if it lasts that long!)
In warmer temps, it's best to wrap the banana bread in silver foil and store it in the fridge for easy access, you can warm it slightly before serving
Or, slice the loaf up, wrap it in sliver foil and place it in an airtight container or sealable bag and pop it in the freezer for those snack-y moments, or an easy breakfast.  Just microwave your slices for a few seconds and they'll be as good as they are straight out of the oven!
You can make this banana bread with frozen bananas, just defrost them first so that they're easy to mash.
Quick tip – This banana bread is AMAY-ZING toasted!!!  Soft and warm and perfect in the middle with a little crispness on the outside and a crunchy crust…SO incredibly good, wow.  AND you can toast it from fresh,  or out the fridge, or straight out of the freezer.
Quick tip #2 (I'm just full of tips today) – This recipe can be used to make banana bread muffins, pop the batter into a greased and lightly floured muffin tin, and bake until golden and perfect!  I have made this banana bread in a rubber loaf pan (it wasn't bad), but the results are far better in a good old metal loaf pan – the flavour and texture is just better.
ANND Quick tip #3 (on a roll here) – To make this recipe vegan or dairy free, simply leave out the Greek yoghurt.
Adding nuts (I like pecans), dark chocolate chips or even poppy seeds to this banana bread gives you some variety…
Coz believe me, once you start making this recipe, you're never going to want to stop!
PLEASE go home right now and make this Completely Healthy Banana Bread for yourself and the ones you love.  It's such a gorgeous treat that you can have as often as you like!  And let me know what you think, I'd love to hear from you!
Completely Healthy Banana Bread
A Completely Healthy Banana Bread recipe that is super moist and delicious! This recipe has no sugar, healthy fats, wholewheat flour, and is more "banana with a little bread than bread with a little banana!"
Ingredients
4

very ripe bananas

1/3

cup

melted coconut oil

, or olive oil

1/4

cup

Greek yoghurt

, or milk

1/4

cup

honey

, or maple syrup

2

eggs

, beaten

1

tsp

vanilla essence

1

tsp

baking soda

Pinch of salt

1 3/4

cups

wholewheat flour
Instructions
Preheat oven to 180°C (350°F), grease and lightly flour a loaf tin.

In a large mixing bowl, mash the bananas well with a fork, stir in the melted coconut oil and Greek yoghurt. Now stir in the honey, eggs, vanilla essence, baking soda and salt.

Gently stir in the flour until just combined, don't over mix. Pour the batter into the loaf tin and level out by gently shaking the tin.

Bake in the centre of the oven for 40 - 45 minutes or until a toothpick inserted into the middle of the loaf comes out free of batter (If there is some banana on the toothpick that's ok).

Remove from the oven and allow to cool completely in the loaf tin, on a wire rack. Turn the bread out onto the wire rack and allow the bottom of the loaf to cool before slicing.

Serve with tea or coffee and enjoy!
Recipe Notes
To make this recipe vegan, simply leave out the Greek yoghurt.